Preparing for the baby's arrival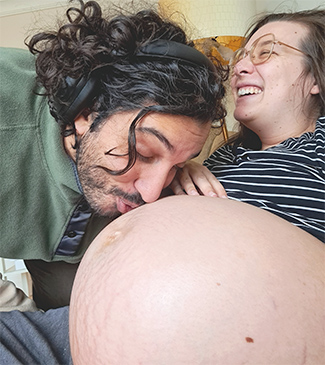 Some parents will prefer to have peace and quiet to create a welcoming family space for the baby.
Photo : iStockphoto

Are your friends and family asking what kind of gift you'd like when your baby arrives? Why not ask for ready-made frozen meals? Or request "help coupons" you can redeem for babysitting, meals, housework, and so on?
The arrival of a new baby brings major life changes for parents and the rest of the family. When you have a newborn, just taking a shower can become quite an adventure. For a while, you may not be able to manage your home household as you usually would.
It's a good idea to get ready ahead of time, for example, by organizing child care for your other kids, making meals you can freeze, and getting used to having a less tidy house. Ask yourself who you can turn to for help: family, friends, neighbours, a community group?
Think also about setting your limits. Long visits and unsolicited advice after the baby is born can be more tiring than helpful. Some parents will prefer to have peace and quiet to create a welcoming family space for the baby.
Don't hesitate to accept offers of help—if it's welcome, of course! There are also community groups that provide services and support to families, for example, a few hours of housework or childcare per week. Contact your CLSC to find out what is available in your area.
A few tips to help get ready for baby's arrival at home
When you cook, prepare extra quantities you can freeze in meal-ready portions. Friends and family can also help out by offering homemade frozen meals as a gift.
Get the house ready for baby's arrival. You can borrow furniture, strollers, and clothes from friends and family, for example, or buy them new or used. Community organizations providing services to families are useful resources.
If people offer to lend a hand, be clear about your needs. Make a list of things that would make your life easier (e.g., helping with errands, cleaning the house, making meals, picking up your other children at daycare).
If people don't offer their help, don't hesitate to ask in advance for a helping hand in the weeks after your return home. A little extra assistance can help you catch your breath and make the most of your first days and weeks with your baby.
Being flexible is the best approach for dealing with the new situations you will face.