Babyproofing

Is your baby growing, becoming more mobile, and exploring everything by touch? Reassess the home environment regularly, to make sure it is still safe.
Your babyproofing checklist will change as your child grows and develops. Take electrical outlets, for example. Though they are not dangerous for newborns, babies who are crawling could suffer electrical burns if they touch them. So from time to time you need to reassess the dangers that may be present in your child's surroundings.
As soon as your baby can turn over, pick up objects, and move about, you need to pay special attention to his surroundings.
Get in the habit of looking around your home from your child's vantage point. See what could be done to reduce the risk of accidents. A good tip for inside the home is to physically get down to your child's level and examine every room from his perspective. Are there any toxic products within reach? Store them in a secure location your child can't get to. Don't forget the outside of your home, either. For example, swimming pools must be kept safely secured.
---
The nursery
Your baby's room must have a window and be well ventilated. If the temperature in the room is suitable for you, it's suitable for your baby, too. A temperature between 20°C and 22°C (68°F and 72°F) is appropriate. When it's cold out, humidity should ideally be kept between 30% and 45%.
Wood and vinyl floors are best because they are easier to keep clean than carpeting, which absorbs moisture from the air and traps dirt. If you have carpets, vacuum regularly to eliminate dirt and dust mites.
Crib, cradle, and bassinet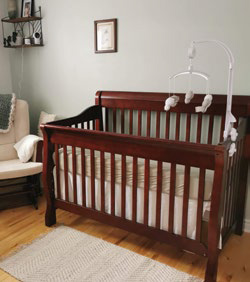 You should regularly check the crib to make sure it is in good condition.
Photo: Janie Gagné
The safest place for a baby to sleep is in a crib that meets Canadian safety standards. This type of bed can be used until your child is 90 cm (35 in.) tall or is able to climb out of the crib, whichever happens first.
Once your baby is able to sit up or crouch on his hands and knees, place the mattress in the lowest possible position and remove all mobiles and toys suspended over the crib.
Cribs made before September 1986 do not comply with Canada's Cribs, Cradles and Bassinets Regulations. They can no longer be sold, and should not be used. Since December 2016, this regulation has also prohibited the sale, import, and manufacturing of drop-side cribs. Neither new nor secondhand drop-side cribs should be used.
You should regularly check the crib to make sure it is in good condition. Make sure all the parts are secured and undamaged. The mattress must be firm and fit the crib. There should be no more than 3 cm (1 3/16 in.) between the mattress and the sides of the crib. The side slats should not be more than 6 cm (2 3/8 in.) apart.
If you are thinking of using a bassinet or cradle instead of a crib during your baby's first months, make sure the products you choose meet Canadian regulations. Carefully read the manufacturer's instructions before use, and follow all directions.
Bunk beds are dangerous because children can fall out of them. Children under the age of 6 should not use them.
If you use a hand-me-down crib, cradle, or bassinet, make sure it is in good condition and meets current safety standards. Health Canada recommends using cribs that are not more than 10 years old.
For more information, consult the pamphlet Is Your Child Safe? Sleep Time.
You can also contact Health Canada toll-free at 1-866-662-0666 or by email at [email protected].
Bedding
The only bedding your baby needs is a fitted sheet for the mattress. If necessary, use a light blanket or sleep sack. If you use a sleep sack, make sure it is the right size for your baby. It is recommended to thoroughly wash and rinse blankets and sleep sacks before use.
Do not place cushions or crib skirts around the bed, or put pillows, positioners, or stuffed toys in the bed, as they present a choking hazard. These items could also cover your baby's head. When he gets older, he could use them to climb out of bed and could hurt himself if he falls.
Wash bedding regularly with hot water to kill dust mites, which feed on dead skin and live in warm, moist beds.
---
The kitchen

Keep an eye on your child at all times. Some babies manage to get out of their high chair even if they are belted in.
When your baby starts to crawl, you must be even more vigilant in the kitchen. It's best not to use a tablecloth because your baby could pull on it, bringing everything crashing down on herself. Pot and cup handles should be turned toward the centre of the table, buffet, or counter.
Don't leave utensils lying about, and always keep knives and other sharp objects out of the reach of children.
The risk of getting burned is also highest in the kitchen. When cooking, turn pot and pan handles inward on the stove, and use the back burners whenever possible. Also, keep your child away from the hot oven: they could place their hands on it.
If you are frying food, keep your child away so she doesn't get splattered with grease or oil. See Preventing burns for additional safety tips.
High chair
The high chair should be kept away from counters and tables because your child could push off with her feet and tip over. Belt your child into the high chair so she cannot slide out or climb over the backrest or the tray.
When you use a portable booster chair, your child must be belted in at all times. Even if she is belted in securely, avoid putting the chair on a table or counter. This will help reduce the risk of falls.
---
Stairs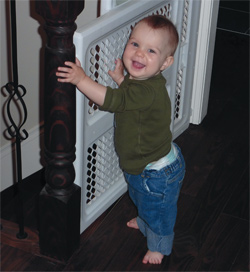 A gate must be installed at the top of every set of stairs.
Photo: Alexandra Linteau
A gate must be installed at the top of every set of stairs. It's also preferable to install one at the bottom of the stairs. Gates must be securely attached to the doorframe or hallway walls.
If the gate is second-hand, make sure it meets current safety standards by checking the Health Canada website at canada.ca/en/health-canada/services/consumer-product-safety/reports-publications/consumer-education/your-child-safe/is-your-child-safe.html.
---
Blinds and window coverings
Cords used to operate blinds or window coverings are dangerous for children: playing with them is a strangulation hazard.
Since May 1, 2022, the sale of blinds and window coverings with long accessible cords (over 22 cm) has been prohibited. It is recommended that such blinds and window coverings be replaced, especially in children's bedrooms and any rooms where they play.

Since May 1, 2022, the sale of blinds and window coverings with reachable long cords (over 22 cm) has been prohibited in Canada. It is recommended to replace all such window coverings.
If you cannot immediately replace blinds or window coverings with long accessible cords, take measures to reduce the strangulation hazard until you can.
Install your baby's crib away from the window.
Secure blind and curtain cords very high up, out of your child's reach.
Make sure your child cannot reach the blinds by climbing on furniture or anything else near the window.
Follow the manufacturer's instructions and read all warnings.
Health Canada recommends against using low-cost PVC mini-blinds from China, Taiwan, Indonesia, Hong Kong, and Mexico manufactured before 2009 because they may contain lead.
---
Furniture, appliances, and televisions
Children sometimes climb or grab onto furniture and appliances. They can then fall or be crushed under the weight of the furniture. Dressers, bookcases, cabinets, and other furniture should always be secured to the wall. The same holds for appliances and televisions.
Always read assembly instructions, and ensure furniture is correctly assembled. Furniture with a wide and sturdy base is less hazardous than furniture on legs or wheels.
Secure furniture to the wall using the anchors provided at the time of purchase, and always follow manufacturer's instructions when installing anchors. If you do not have an anchor, obtain straps or anchors to secure furniture to the wall.
---
Electrical cords and outlets
Appliance and extension cords can be dangerous if they are left within reach. They can cause electrical burns if children put them in their mouth. Your child could also pull on a cord, causing an appliance to fall on him. Some appliances, such as irons or kettles, can also cause burns.
To keep your baby from getting an electrical shock (e.g., by inserting something in an electrical outlet), ensure all outlets are secured with a snug-fitting outlet cover.
---
Toxic products
Keep toxic products (e.g., cleaning products, certain plants, personal care products), prescription drugs, and natural health products out of children's reach. Store them in cabinets or drawers with safety latches or in places children cannot get into.
---
Objects dangerous to children
Many objects can be dangerous for babies and young children.
Kitchen knives and other sharp objects must be kept out of children's reach. For example, make sure that tacks, nails, or screws are inaccessible.
Small items that could be swallowed or cause choking should also be stored out of children's reach. Once your baby begins to move around, make sure to never leave small objects on the floor (see Preventing suffocation and choking).