Choking risk: Be extra careful until age 4

Certain foods present a choking risk for your child up until the age of 4: peanuts, nuts, seeds, hard candy, cough drops, popcorn, chewing gum, whole grapes, raisins, sliced sausage, raw carrots or celery, food on toothpicks or skewers, ice cubes, etc.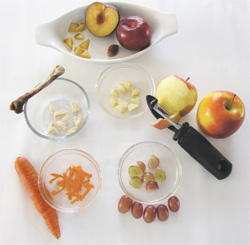 To prevent choking, be sure to take certain precautions when preparing food.
Photo: Pascale Turcotte
Certain foods can become stuck in your child's throat or block her airway. Many children choke on food each year.
Foods that are hard, small, round, smooth, or sticky present the greatest risk.
Certain foods require careful preparation. To prevent the risk of choking, be sure to:
Remove bones from meat and fish
Remove cores and pits from fruit
Cut grapes into quarters
Grate raw hard vegetables and fruits like carrots, turnips, and apples
Toward age 2, you can start giving your child whole apples (peeled) and whole small fruit, except for grapes, which you should continue cutting into quarters.
Rules to prevent choking
Make sure your child is always supervised when eating.
Sit your child in a high chair or at the table.
Don't let your child walk or run with food in her mouth.
Avoid feeding your child in the car.
Keep dangerous foods out of reach.
Ask older children to follow these rules.
A first aid course will teach you what to do if your child is choking (see Choking).