From Tiny Tot to Toddler
About the guide
From Tiny Tot to Toddler is a practical guide that contains scientifically supported information about pregnancy, delivery and the first two years of a child's life. More.
Free guide offered to parents in Quebec
A free printed guide is given to all new Quebec parents at the beginning of pregnancy follow-up and to those involved in an adoption process. Any other interested person can purchase it.
If you haven't received your free guide
Go to the Where to get your free guide page to find out where the guide is available in your region. Please note that we do not mail any guides.
Ma grossesse tool
You are pregnant? Complete the online Ma Grossesse tool. This tool is fast, free, confidential and available at all times. It will allow you to obtain the best services near you, according to your needs and your situation.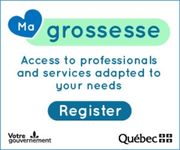 Preparing for your baby's arrival
Becoming a parent website provides an overview of the main government programs and services available to parents and future parents.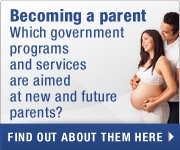 Your photos in the next edition
A call for photos is currently underway. See all the details on the page: Call for photos.
Please note that in the 2020 printed edition of the From Tiny Tot to Toddler guide, there was an error in the second bullet point on page 678. The text should say "The harness straps must go through the slots in the back of the seat at the height of your child's shoulders or a little higher," and not "a little lower," as written. This information is important to ensure the optimal safety of children in forward-facing car seats. 
This information has been corrected on the website and the PDF versions. To receive a copy of the corrected page please contact [email protected]