Preventing drowning

Never leave a child in a bathtub, pool, wading pool, or natural body of water without adult supervision.
A child can drown in a matter of seconds, even in a small amount of water like in a bathtub. A drowning child doesn't necessarily make any noise.
Many organizations offer first aid training, including cardiopulmonary resuscitation (CPR). It's a good idea to know CPR in case you ever need to use it. Your municipality or CLSC can tell you about the courses available in your area.
Bathtub
Children can drown in a bathtub if they slip or lose their balance. Bath seats and infant inner tubes cannot prevent this kind of accident. They give adults a false sense of security, which can lead to drowning.
To learn more about bathing your infant and safety during bath time, see Bathing your baby.
Pools
Fatal and non-fatal swimming pool drownings occur most often when no one is actually swimming and a child accidentally falls in the water. Oftentimes this type of accident happens when a child living at the home or in the neighbourhood is able to gain access to the pool when no adults are present.
To find out how to secure all types of pools (above ground, inground, and inflatable), contact your city or town.
For more information and safety tips, visit the Lifesaving Society's Perfect Swim website.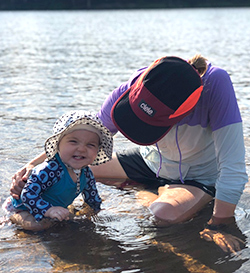 Never leave a child near a bathtub, pool, wading pool, or body of water without adult supervision.
Photo: Audrée-Jeanne Beaudoin
Bodies of water
Your child must be constantly supervised around lakes, rivers, oceans, and other bodies of water. It only takes a moment for a child to slip away and risk drowning.
When you go out on the water, always wear a life jacket. Make sure children and the other people with you wear one, too. Life jackets must be appropriate for the person wearing them and for the type of activity. Fasten life jackets properly. If the boat capsizes, life jackets can save the lives of everyone onboard.
Water gardens and features
Since children can drown in even a very small amount of water, caution should also be exercised around shallow ponds, like water gardens and other landscaping water features.