Grandparents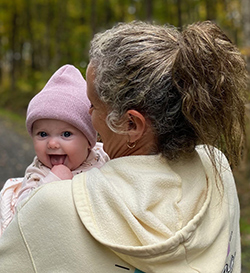 Grandparents may do things differently, and practices have changed a lot since their day. This guidebook From Tiny Tot to Toddler can be a very handy tool for sharing the latest recommendations with your child's grandparents.
Photo: Virginie Pinard
Becoming a grandparent is a unique new opportunity to relive a child's first moments. It's also an occasion to witness firsthand the birth of a family. The role played by Grandma and Grandpa in this new family will depend on a host of factors: distance, work, the relationship with the new parents, and the grandparents' desire to be involved.
Pregnancy is a good time to talk about the grandparents' new role. Do you want them to be present during the baby's first days? How will they be involved in his education? How can they best help the new parents?
The first few weeks will be easier for the new parents if someone else is helping them look after household chores. Home-cooked meals, for example, are a wonderful, heartfelt gift new parents are sure to appreciate.
It takes time to build a relationship with a grandchild. Your close and loving attachment, sense of pride, and protective instinct are the foundation for a lifelong bond.