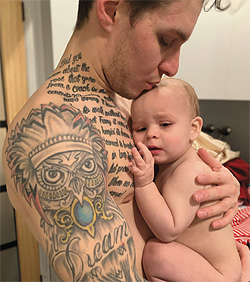 Physical contact with Dad is comforting and reassuring for your baby.
Photo: Karine Benharroch
Your role in feeding your baby is important regardless of how she is fed. You can use feeding as an opportunity to get to know your baby by burping her, changing her diaper, holding her, rocking her, and putting her to sleep after she has been fed. You can lay her on your chest to help her fall asleep. All children—boys and girls alike—need the comfort and reassurance of physical contact with Dad.
During breast-feeding you have a key role to play. Burping baby, offering assistance in getting her to breast-feed, or simply bringing her to Mom are things you can do each day to help with feeding. Feeding your baby will take lots of time in the first weeks. Taking responsibility for household chores (grocery shopping, cooking, doing the laundry) is another way to contribute indirectly to breast-feeding.
If your baby is generally bottle-fed, you'll find a way to share the task with your spouse that works best for you. The first spoon feedings are also enjoyable moments to share with your baby.