Twins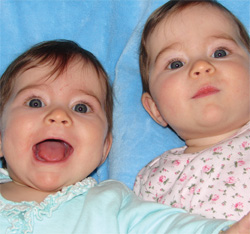 Your twins may look alike, but they are two very distinct people. As parents you can encourage each child's own unique character. With time you'll discover what sets them apart.
Photo: Sophie Cliche
If you give birth to twins, your life during the first few months will revolve around feedings, diapers, baths, and naps. You'll have the same routine as all new parents—times two! You'll also be doubly amazed at how your babies develop from day to day.
Even identical twins will probably have different schedules. To make things easier, keep a notebook of each baby's schedule. This will also be helpful to those who come to give you a hand.
If friends are looking for gift ideas, why not ask for diapers, home-cooked meals… or a few hours off!
You'll very likely need a hand looking after the babies and doing household chores. Seek help from your family, friends, or CLSC.
Even if you're the very busy parents of twins or triplets, make sure to set aside time for yourself and your significant other. Remember, you're more than just parents! If the weather is good, get out of the house with your babies. This will break the routine and give you the chance to chat with other people. Plus, people are sure to express their admiration at the sight of your twins, making you feel proud and rewarded.
To find out more, you can consult resources for future and new parents of twins and triplets, such as Mamans pieuvres.:
Mamans pieuvres
mamanspieuvres.com (in French only)