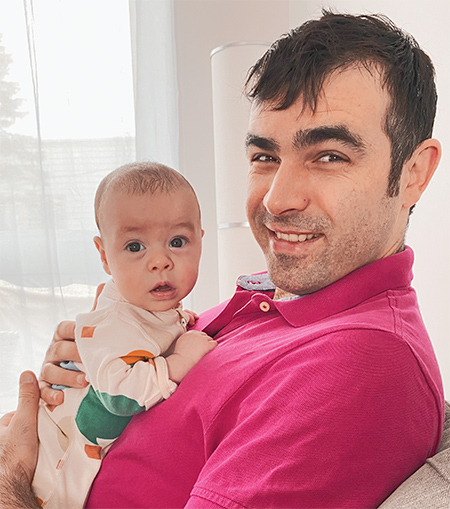 Photo: Martin Perreault
You aren't born a father, you become one.
Fatherhood is an exciting adventure dads-to-be can start enjoying from the time of conception. In Québec, more and more happy fathers are willingly sharing the feelings of pride and fulfillment they have discovered in their new role as dads.
And they are the first to admit that we haven't always talked enough about fatherhood. It wasn't that long ago that our society saw fathers simply as providers. Today, that role has evolved.
It's up to you to decide what kind of father you want to be. What did you like about your own father? What would you have liked him to do more? What kind of relationship do you want to have with your baby? Maybe you would like to be the type of father who
Plays with his baby and enjoys activities together
Takes care of his child, feeds her, changes diapers, prepares meals, and gets her ready for bedtime
Shows his love for his child
Educates his child and takes responsibility for her: keeps track of her vaccinations, books the babysitter, and makes plans for his child
Provides for his child—yes, it takes money to raise a child
Enjoys talking about his baby, carries a picture of her, and expresses his pride in her
Take advantage of the pregnancy to start building a relationship with your child. As soon as her mother's belly begins to swell, the fetus can hear your voice and will soon learn to recognize it. If you feel like it, talk to your baby, sing her a song, or stroke her mom's belly. These will be among the first of many magic moments as a family, even before your baby is born.
You are unique and very important to your child. Creating an early connection with your baby will help the two of you form a solid bond (see Bonding).