Your hospital stay is an ideal time to get to know your baby and learn how to look after her. Take full advantage of it.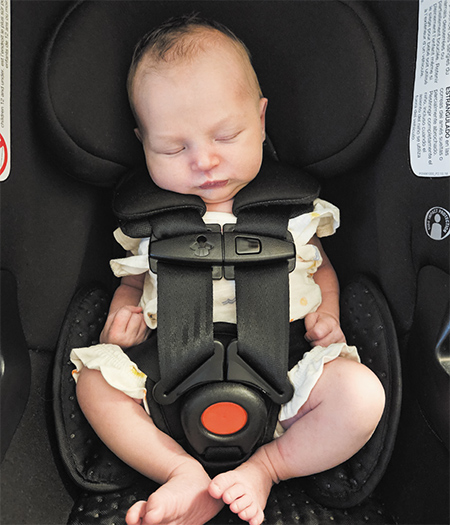 If you plan on driving home, a car seat is mandatory for your baby's safety from the moment you leave the hospital or birthing centre. You will find all the information you need to know on page Travelling safe: Car seats.
Photo: Dominique Belley
Hospital stays generally last 2 days after vaginal delivery and 3 to 4 days after a caesarean section. At birthing centres, the stay is usually about 24 hours.
Most hospitals are encouraging parents to room-in with their newborn. This gives them more time to get to know their baby and begin taking care of him, with a nurse nearby if they need help or advice.
Staying together will also let you nurse your baby on demand. These first moments together are precious.
During your stay you must also complete the paperwork required when there is a birth.
Caring for your newborn
During your stay at the hospital or birthing centre, the nurses, doctors, or midwives will provide care to your baby to make sure she is thriving and to prevent or screen for health problems.
If you have concerns or questions about the care provided to your newborn, feel free to talk to these health professionals.
Preventive care
In the hours following delivery, the staff will recommend giving your newborn a vitamin K shot to prevent bleeding. Newborn bleeding is rare but can be severe and even fatal.
An antibiotic ointment will be applied to your baby's eyes to prevent serious infections that can cause blindness.
Physical examination
During your stay at the hospital or birthing centre, a health professional will also give your newborn a thorough physical examination to make sure he is healthy and identify any potential issues.
Blood screening
Within a few days after birth, the staff will suggest that a blood screening be done and will take a few drops of blood from your baby's heel. The purpose of screening is to detect diseases that, while rare, can pose serious risks to your baby's health. If a problem is detected, treatment must begin before symptoms appear. This can help prevent severe, permanent complications.
For most children, the screening results will be normal. The parents will not be contacted. No news is good news!
If the screening results are abnormal, you will be contacted and directed to a specialized centre for additional tests. If these analyses confirm a diagnosis, you will be offered appropriate monitoring and treatment.
For more information on screening, go to : www.quebec.ca/en/health/advice-and-prevention/screening-and-carrier-testing-offer/depistage-sanguin-et-urinaire-chez-les-nouveau-nes and www.chudequebec.ca/patient/maladies,-soins-et-services/m-informer-sur-les-soins-et-services/programme-quebecois-de-depistage-neonatal-sanguin.aspx (French only).