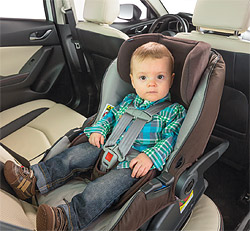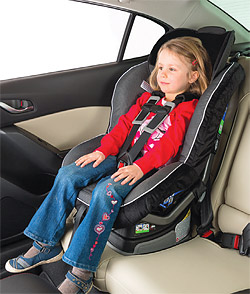 It's the law.
In a moving vehicle, your child must be secured in a car seat that is appropriate for her height and weight until she is 63 cm (25 in.) tall when seated, as measured from the seat to the top of the child's head.
Photos: SAAQ

It's for your child's safety.
Kids taller than 63 cm when seated should still be using a booster seat until the seatbelt can safely be used alone.
A seatbelt should be used alone, without a car seat, only if the child is tall enough to sit in the back seat of the vehicle with her back against the backrest and her knees bent over the edge of the seat. Once fastened, the seatbelt should go across the middle of her shoulder (on the collarbone) and over her hips.
Car seats are essential for all car travel with your infant, right from birth.
An appropriate child safety seat, when used properly, can reduce the risk of death and injury by 70% in the event of a collision.
For your child's safety, the car seat should always be installed on the back seat of a vehicle.
There are three types of children's car seats:
Infant car seats, from birth until children weigh 10 kg (22 lb.), although some car seats can be used beyond that weight. Check the car seat manufacturer's maximum weight recommendations.
Child seats for children who weigh at least 10 kg (22 lb.)
Booster seats for children who weigh at least 18 kg (40 lb.)
You will have to change seats as your child grows.
For more information, consult the Secure Them for Lifebrochure: saaq.gouv.qc.ca/fileadmin/documents/publications/secure-them-life.pdf.
There are a number of convertible car seats on the market. This type of car seat covers more than one phase (infant, child, or booster).
Good to know...
Since September 2002, all new vehicles made in Canada must be equipped with a Universal Anchorage System (UAS). All infant and child seats made in Canada come with a strap that attaches to the vehicle's UAS to make installation easier.
Installing a car seat
Read the manufacturer's instructions very carefully before putting your child in a car seat. There is a video clip on the SAAQ (Société de l'assurance automobile du Québec) website for each of the three types of child safety seats. These clips explain:
How to choose the right seat for your child's height and weight
How to correctly install the seat in your vehicle
How to safely secure your child in the seat
To view the videos, go to saaq.gouv.qc.ca/en/road-safety/behaviours/child-safety-seats/.
As you watch the videos, pay special attention to the following:
Chest clip (infant and child seats)
Slide the chest clip connecting the two harness straps to armpit level (middle of the child's chest).
Don't leave more than a finger's width between the child's body and the harness.
Forward or rear facing? (child seats)
Install the seat so it is facing the rear of the vehicle until the child exceeds the manufacturer's height and weight limits (some child seats can face the rear until the child weighs 20 kg or 45 lb.).
Attach the tether strap to the anchor bolt only once you turn the child seat around so it faces forward.
Shoulder belt and lap belt (booster seat)
Adjust the vehicle's shoulder belt so it is over the child's collarbone and the lap belt so it lies across the hips.
Booster seats should only be used for children who weigh at least 18 kg (40 lb.).
Car seat safety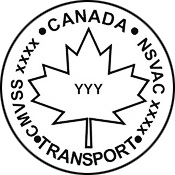 All car seats sold in Canada meet Transport Canada standards. Make sure the car seat bears a compliance label before you use it. It is illegal to use a car seat purchased in another country because safety standards in other countries are not the same as ours.
Expiry date – An expiry date is usually engraved on the plastic part of car seats sold in Canada. If you can't find the expiry date, see the seat's user manual or contact the seat manufacturer. Be sure to have the following information on-hand: serial number, date of manufacture, and date of purchase of the seat.
Accidents – After an accident, you must replace the car seat even if your child was not in it at the time of the collision. You should be able to claim the value of the car seat from your insurance company, so keep the receipt for your car seat.
Manufacturer recalls – Every year manufacturers issue a number of recalls, so it is important to fill out and return the manufacturer's product registration card when you purchase a car seat. That way the manufacturer can notify you if there is a recall.
Used car seats
Parents are strongly advised not to acquire a used car seat because you need to know the full history of seat your child will use.
If you do decide to get a used car seat, make sure it meets the following criteria:
It is in good condition and has all its parts.
It has the Transport Canada's compliance label (the one with the maple leaf).
It comes with the user manual.
It has not been in an accident.
It has not been recalled by the manufacturer.
It is not beyond its expiry date.
To find out if a car seat has been recalled, visit the Motor Vehicle Safety Recalls Database on the Transport Canada website at www.tc.gc.ca.
Warning regarding air bags
Never put a child of 12 years or less in the front seat if your vehicle has a passenger-side front airbag.
If you need to sit your child in the front seat, under exceptional circumstances (e.g., the vehicle has no back seat or your child has a health issue that requires close supervision), you must disable the airbag.
If there is no way to disable the airbag in your vehicle, contact Société de l'assurance automobile du Québec (SAAQ) to request deactivation of the airbag.
Network for the Inspection of Child Safety Seats
SAAQ, in partnership with CAA-Québec, offers a child safety seat inspection service as well as advice on how to use safety seats properly.
A network of members provides this service throughout Québec. If you would like to have your child's car seat checked, make an appointment with a network member in your area. Member contact information is available at www.caaquebec.com/en/on-the-road/services/child-car-seat-verification-network.
Taxis
By law, children traveling in a taxi must wear a seat belt unless they cannot sit up on their own. For children who are clearly incapable of sitting up on their own, parents must first put on a seatbelt and then hold the child in their lap.
For safety reasons, it's therefore best to avoid using taxis with your child except in an emergency, unless you can put her in a car seat. Some taxi companies have car seats available—you just need to ask.