Your baby's room should be bright and well ventilated. It must also have a window. If the temperature in the room is suitable for you, it's suitable for your baby, too. A temperature between 20°C and 22°C (68°F and 72°F) is appropriate.
When it's cold out, the humidity should ideally be kept between 30% and 45%.
Wood and vinyl floors are best because they are easier to keep clean than carpeting which absorbs moisture from the air and traps dirt. If you have carpet, vacuum regularly to eliminate dirt and dust mites.
Blinds

Blind and curtain cords should be secured high up so your child cannot reach them.
Cords used to operate blinds should be kept out of your child's reach because they are a strangulation hazard. Blind and curtain cords in the nursery and throughout the house should be secured high up so your child cannot reach them. The best way to keep your child safe is to remove any window blinds with cords. Many stores sell cordless blinds.
Install your baby's crib away from the window. Make sure your child cannot reach the blinds by climbing on furniture or anything else near the window.
Health Canada recommends against using low-cost PVC mini-blinds from China, Taiwan, Indonesia, Hong Kong, and Mexico made before 2009 because they may contain lead.
Securing blind cords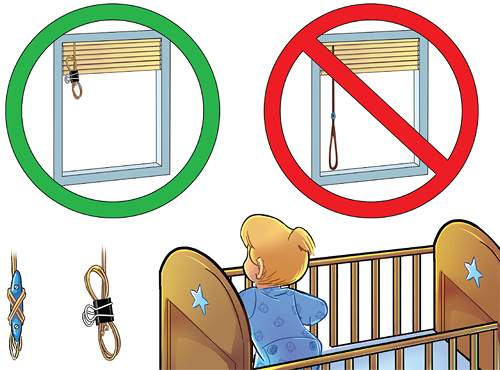 Illustration: Maurice Gervais
Crib, cradle, and bassinet
The safest place for a baby to sleep is in a crib that meets Canadian safety standards. This type of bed can be used until your child is over 90 cm tall or is able to climb out of the crib, whichever happens first.
Cribs made before September 1986 do not comply with Health Canada's Cribs, Cradles, and Bassinets Regulations and should not be sold or used. Since December 2016, this regulation has prohibited the sale, import, and manufacturing of drop-side cribs. Neither new nor secondhand drop-side cribs should be used.
You should regularly check the crib to make sure it is in good condition. Make sure all the parts are secured and undamaged. The mattress must be firm and fit the crib. There should be no more than 3 cm (1 3⁄16 in.) between the mattress and the sides of the crib.
Do not use removable S or Z hooks to secure the mattress support as they are unsafe. It is illegal to sell cribs with these types of hooks.
Make sure the base of your baby's crib is securely in place. It should not move. The side slats should not be more than 6 cm (2 3⁄8 in.) apart.
If you are thinking of using a bassinet or cradle instead of a crib during your baby's first month, make sure the products you choose meet Health Canada's regulations. Carefully read the manufacturer's instructions before using them.
Bunk beds are dangerous because children can fall out of them. Children under the age of 6 should not use them.
If you use a hand-me-down crib, cradle, or bassinet, make sure it is in good condition and meets current safety standards.
For more information, consult the pamphlet Is Your Child Safe? Sleep Time at www.hc-sc.gc.ca/cps-spc/alt_formats/pdf/pubs/cons/child-enfant/sleep-coucher-eng.pdf. You can also contact Health Canada toll-free at 1-866-662-0666 or by email at [email protected].
Bedding
The only bedding your baby needs is a fitted sheet and a blanket. It is recommended to thoroughly wash and rinse them before use.
Do not use bumpers, crib skirts, pillows, positioners, and stuffed toys as they present a suffocation hazard.
These items should also be avoided when your child starts to move around in his crib because he could use them to climb out and could hurt himself if he falls.
Wash bedding regularly with hot water to kill dust mites, which feed on dead skin and live in warm, moist beds.