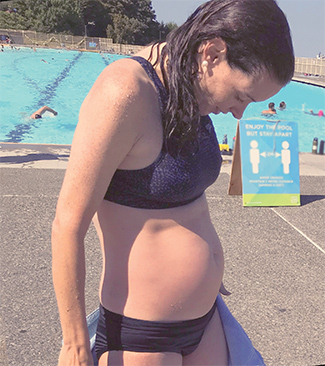 Women who are active during pregnancy tend to adapt better to the physical changes of pregnancy and recover faster after giving birth.
Photo: Frédéric Ollendorf
If yours is a normal pregnancy, you will be able to stay fit by partaking regularly in moderately intense activities like walking, swimming, aquafitness, biking, stationary cycling, cross country skiing, or snowshoeing. You can also add stretching, and posture and muscle strengthening exercises to your routine. Relaxation exercises will help you control your breathing and improve oxygen intake to your baby.
Pregnant women are advised to avoid taking part in extreme sports and scuba diving. Sports and activities that can expose you to falls or impacts are also not recommended. Women athletes who wish to continue training intensively during pregnancy should do so under the supervision of a physician.
Your health professional can give you advice if you have a pregnancy-related health problem or don't feel capable of being physically active.
For more information on physical activity during pregnancy and examples of exercises you can do, pick up a copy of the Kino-Québec pamphlet Active pour la vie available at your CLSC and in medical clinics. You can also consult it online at www.kino-quebec.qc.ca (in French only).