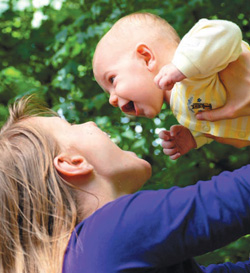 Becoming a mother is a big new step in life.
Photo: Sarah Witty
In addition to being mothers, most women want to achieve a sense of personal fulfillment in their work, friendships, and love lives. However, this process can take time. You may have had to wait a long time before having your first child. Or maybe this whole experience wasn't planned at all.
Holding your infant in your arms for the first time is a very moving moment. Your baby's arrival will teach you things about yourself you probably never knew. You may have some doubts about yourself as a mother from time to time, but you'll grow and change as your child does. This tiny person now depends completely on you and his father!
All too soon your baby will be a child, then a teenager and adult. When you're cuddling or feeding your newborn, try to enjoy the moment. These moments will remain etched in your memory and will lift you when you're feeling tired or down.
Many women who become mothers develop a new passion, finding out everything they can about family life. Some develop special skills and want to share them with other moms or get involved in various family community groups.
Some moms decide to stay at home and raise their children full-time, while others go back to work either full or part time.