Delivery of the placenta
Your baby is born, but the delivery isn't over yet. Contractions will continue for a little while longer to deliver the placenta.
After the placenta is delivered, your uterus will continue to contract to regain its original shape and to prevent haemorrhaging. The first few times your baby breast-feeds will stimulate the production of a hormone called oxytocin, which increases contractions of the uterus. If the contractions aren't strong enough, there is a risk of haemorrhaging. Your abdomen will then be massaged at the uterus to stimulate it to contract, or else oxytocin will be given as a medication for this purpose.
First moments with your baby
The next few hours are a precious time to welcome your baby and get to know him. The health professionals, who up to this point have been helping very closely, will now be more discrete.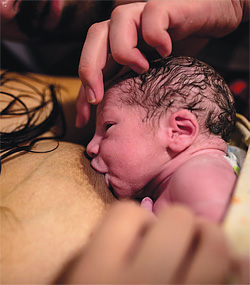 If you are both doing well, your baby will benefit from snuggling against your chest in direct, skin‑to‑skin contact.
Photo: Anthony-William Gervais
Right after birth, if you are both doing well, your baby is placed directly on your chest, skin to skin. Ideally your baby will stay with you for at least two hours, his head covered with a hat and his little body wrapped in warm blankets.
This helps him gently transition to life outside the uterus, the contact allowing him to maintain his body heat and regularize his breathing and heartbeat. In addition, the skin-to-skin contact makes your newborn feel safe and makes breast-feeding easier.
If your condition does not allow it, this skin-to-skin contact can be done with the father or another significant person. If you cannot enjoy skin-to-skin contact right away, don't worry, you will have the opportunity later on and your baby will be just fine.
Your baby will enjoy the warmth of your body or discover comfort in his father's arms. He will recognize the voices of his parents. Your baby will stick out his tongue, blink his eyes, breathe more quickly, move his lips, turn his head—it's time to get to know one another! This is a wonderful and emotional time of discovery for all, one that marks a special period of bonding as a family.