Keynote speech: Erica Di Ruggiero, Associate Professor of Global Health, Dalla Lana School of Public Health (DLSPH), University of Toronto

Monday, November 28, 2022, from 8:30 a.m. to 9:30 a.m.
Simultaneous French-English translation 
Version en français disponible
Health is one of the areas of governance that is attracting the most interest around the world. It includes a wide range of institutions, most of them dedicated to treatment, and some more specifically dedicated to prevention. The pandemic challenged the governance of health, social, and economic systems, and further exposed pre-existing social inequities in health.
Dr. Di Ruggiero will focus on how to define the components of governance within a public health system. She will also present research findings and suggest courses of action to strengthen, improve, and transform the governance of public health systems in Canada. This presentation is based on a report entitled "Governing for the Public's Health: Governance Options for a Strengthened and Renewed Public Health System in Canada," which includes a review of the literature and case studies that informed the 2021 report, A Vision to Transform Canada's Public Health System, by the Chief Public Health Officer (CPHO) of the Public Health Agency of Canada.
At the end of this conference, participants will be able to:
Describe the components of public health system governance
Identify courses of action to strengthen, improve, and transform it.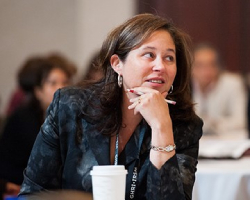 Erica Di Ruggiero is Associate Professor of Global Health in the Social & Behavioural Health Sciences Division and at the Institute of Health Policy, Management & Evaluation at the Dalla Lana School of Public Health (DLSPH), University of Toronto. She is Director of the DLSPH Centre for Global Health and Co-Director of the WHO Collaborating Centre in Health Promotion. Her research focuses on assessing the roles of different approaches and models of governance in public health systems. She studies the impacts of public health interventions (policies, programs) on social, gender, and health inequalities. Her research also examines how evidence influences global policy agendas related to employment, other determinants of health, and health equity in the context of sustainable development goals. She holds a PhD in Public Health Sciences from the University of Toronto and was the inaugural Deputy Scientific Director of the Institute of Population & Public Health at the Canadian Institutes of Health Research (CIHR).
Keynote speeches will be broadcast live!
Keynote speeches will be available in real time on the web. Subscribe to the JASP YouTube channel now to access live content on November 28, 29, 30, and December 1.